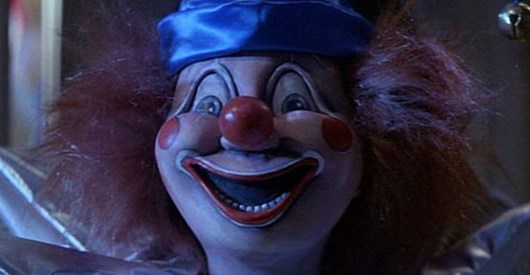 6pm Sunday 30th October.
Join us and The Skinny for an evening of eerie events, from cult cinema to artist performance, in the lead-up to Halloween and our next exhibition, No Such Thing As Gravity.
Do you believe in ghosts? Stay away from the light…  centres on a special Halloween screening of the cult classic Poltergeist, the terrifying story of a young family stalked and terrorized by a group of ghosts that are attracted to their youngest daughter. Before the screening, artists Sarah Sparkes and Nathan Jones will present their research and work, considering the spiritual realm and how it breaks through into our world.
Included in the ticket price is also pizza from American Pizza Slice and drinks by Black Cow vodka which will be served on arrival.
No Such Thing As Gravity artist and ghost researcher Sarah Sparkes will introduce the film, and talk more about her work exploring mysteries surrounding the relationship between the living and the dead. She will also present her upcoming programme of GHost Hostings here at FACT, which investigate the nature of ghosts and their 'hosts', and the conditions in which ghosts may be made.
The evening will also feature a performance from Liverpool-based artist Nathan Jones; his glitch ghost story A Crack in the Voice relates connections between a 'faulty' voice recording made of his wife Nina during her recovery from brain surgery, and two uncanny events that took place before and after the recording was made. A Crack in the Voice narrates the possibilities for the portals that may exist within our voices, and the relationships these crevasses have to unexplained life events, and unsettling psychic phenomena.
This event is part of the Public Programme for upcoming exhibition No Such Thing As Gravity. Opening with a special day-long event in collaboration with Arts at CERN, on 10 November, this group exhibition explores the ever-changing limits of science, through art. No Such Thing As Gravity will feature a wide range of works merging art with scientific experiments, new and future technologies, and exploring the borders between life and death, as well as the limitations of our consciousness.
This event is in collaboration with The Skinny, the biggest listings and entertainment magazine in the North. Head to theskinny.co.uk for smart, independent writing on film as well as music, theatre, visual art and much more across the North's cultural scene.
An extensive film programme of both popular cinema and artist-made, and selected, film will also be offered throughout No Such Thing As Gravity.
Schedule:
6pm: Welcome drinks by Black Cow vodka and pizza from American Pizza Slice in the Box
6.15pm: Nathan Jones, A Crack in the Voice
6.45pm: Sarah Sparkes introduction
7pm: Screening of Poltergeist
http://www.fact.co.uk/whats-on/archive/s/stay-away-from-the-light-an-evening-of-paranormal-activity.aspx