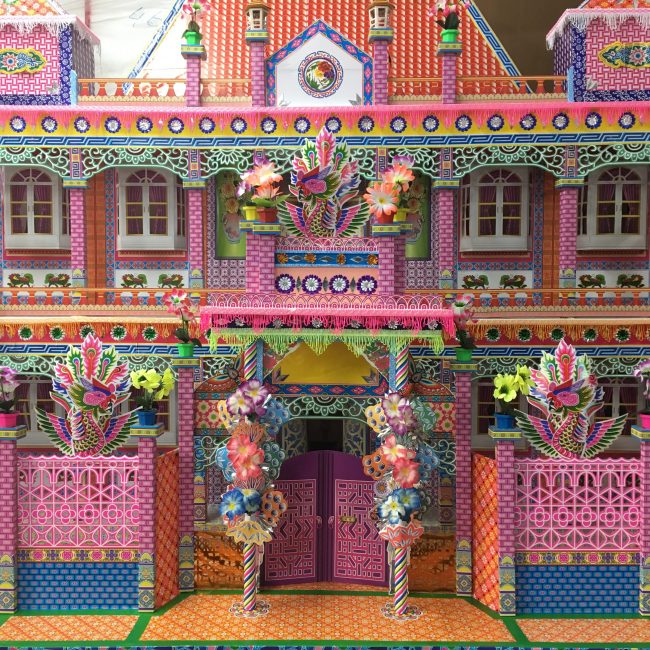 Meet the Ghost House Makers
April 28th 2017
Meet The Ghost House Makers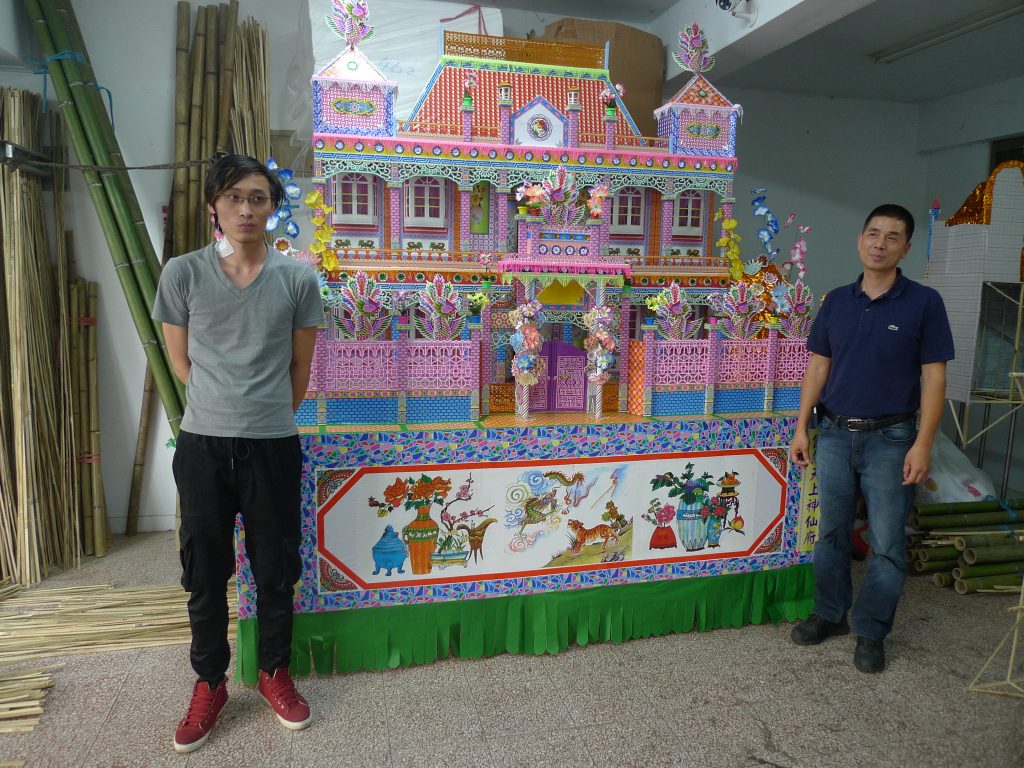 I was very excited to have a meeting with the owner and the designer from 正格紙藝 Paper Art http://www.paper-art.com.tw/, which specialises in making 'ghost houses'. I felt it was important to include ghost houses in my installation, The GHost Formula, at the NTMoFA (National Taiwan Museum of Fine Art). I am grateful to Yenting and Hsingyu from NTMoFA for arranging this meeting and for interpreting during the interview.
正格紙藝 Paper Art's showroom and workshops are close to a large crematorium in Taipei and,not surprisingly, there are many funerary businesses in the area. There are also many small street temples and florists lining the streets. The apartments above have caged balconies with many caged birds all singing, invisibly.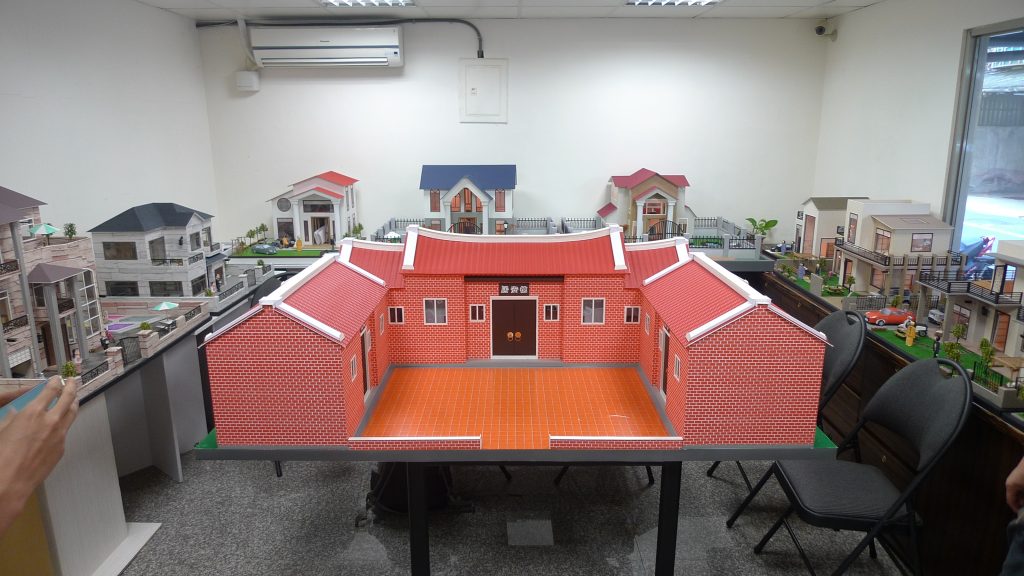 林建江 LIN Jian-jiang, the owner of 正格紙藝 Paper Art, greets us and invites us into his showroom. The showroom is full of model dolls- house sized paper houses. The houses, fully and exquisitely furnished, are placed around three walls of the room rather like a model of a close for a new estate.
We sit around a table in the middle of the room and begin the interview.
I ask 林建江LIN Jian-jiang about his profession. He explains that he makes paper houses for people who have passed away and he been doing this work for 30 years. The family or friend(s) of the deceased commission the house to be made for their dead relative. The house is eventually burnt, just before the deceased's persons cremation. The dead one can then receive the house in the afterlife and their spirit may live here comfortably, in heaven.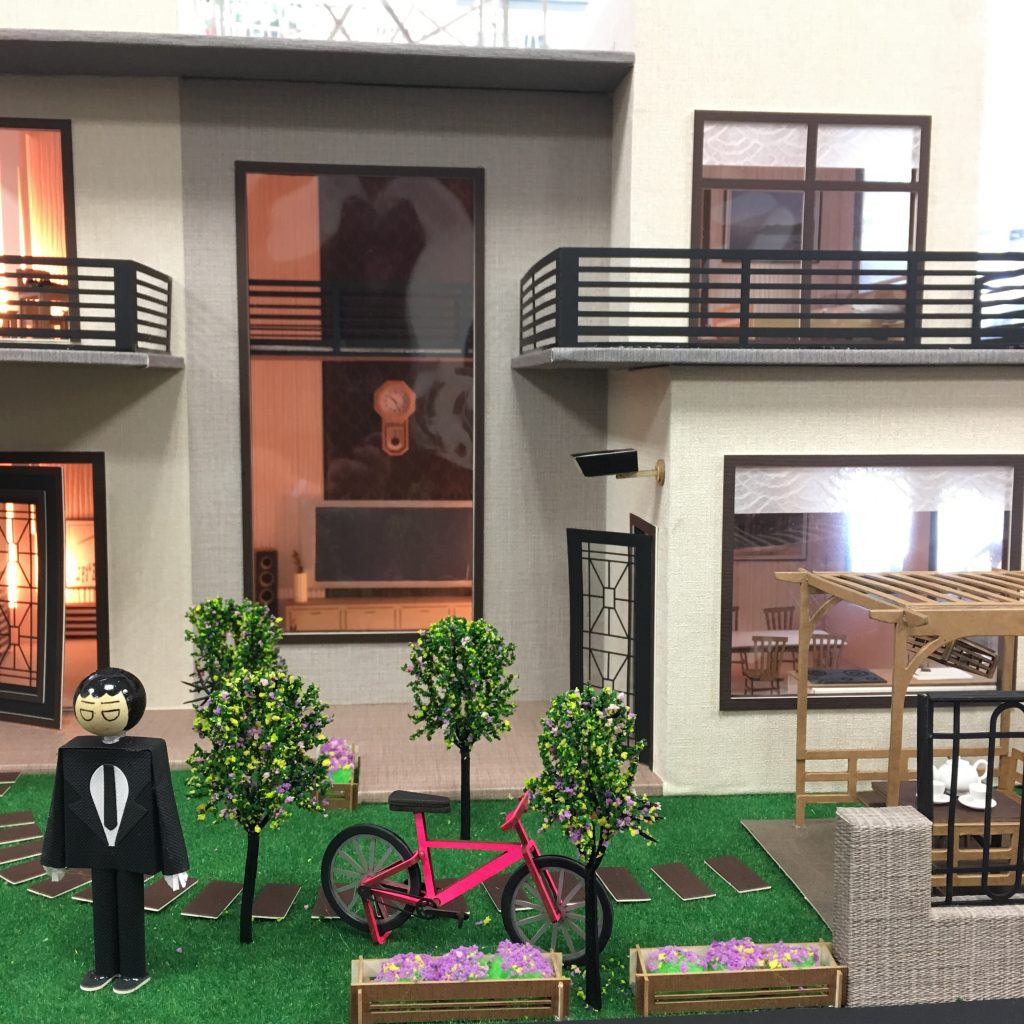 The making of bamboo houses, as funeral offerings for the dead, is an ancient Chinese tradition. 林建江LIN Jian-jiang tells me that the traditional brightly painted, bamboo houses are still popular. However, he goes on to say, most people now prefer modern looking houses. These contemporary paper houses are getting more complex and so a designer is needed in this area.
林家宇LIN Jia-yu is the designer for Paper Art. He designs the ghost houses based on relatives requests. He takes pride in his work – an average house will take two days to construct, but something with special requirements can take up to a month.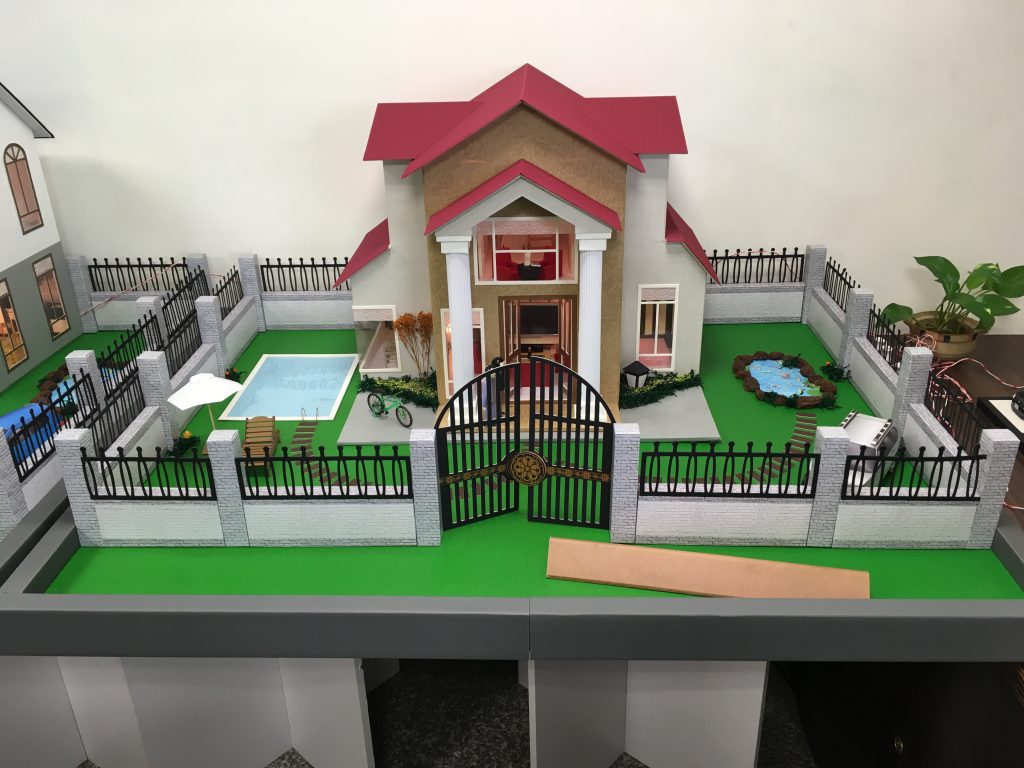 Most of these modern looking ghost houses have a lot of rooms, they are much more spacious than most Taiwan Houses. The houses are fully furnished and many have miniature paper cars and bicycles and these are also for the dead to use in the afterlife.
Each house has two models of a male and female character, these are servants who will look after the spirit of the dad person so they don't have to work. There are also sometimes models of the deceased in the houses, these are generic models that represent different types and ages of person.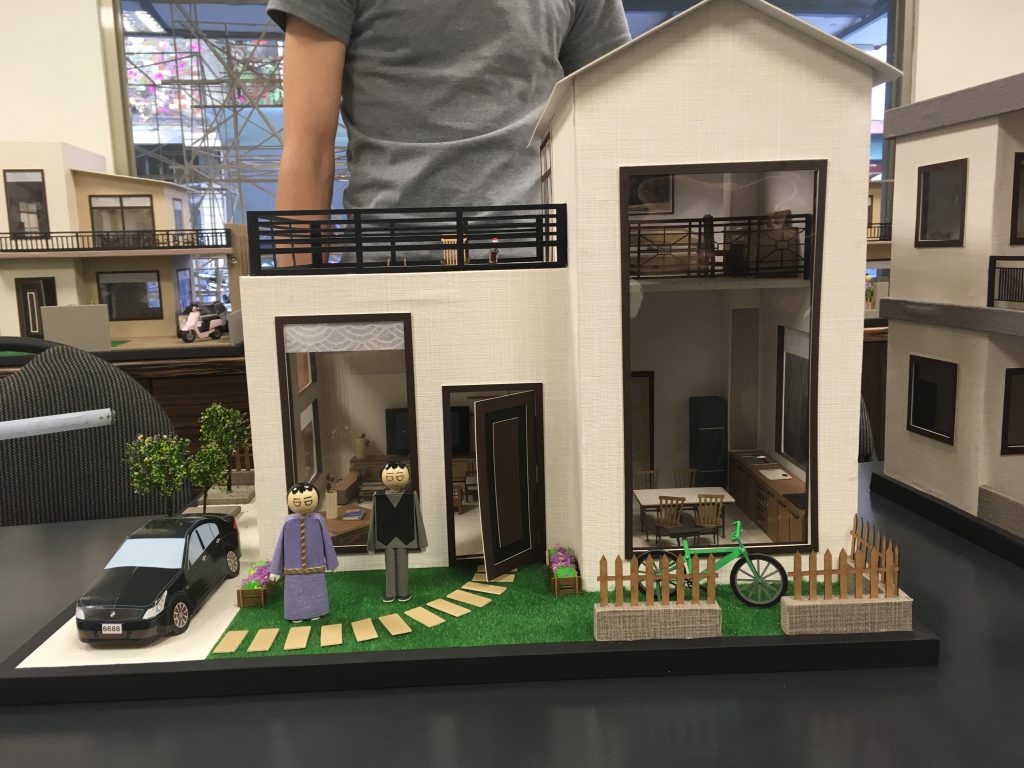 These are dream houses for the spirits of the dead. One customer ordered a house that is a traditional Chinese design with a courtyard and it took a month to make and it is from their own designs. They show me this house and it is magnificent.
The houses are placed near the crematorium or where the funeral ceremony is taking place. During a special ceremony, the spirit is asked to enter the house and to live there. Then the house is burned to transition it from this world into the afterlife.
林建江 LIN Jian-jiang made houses for both his grandmother and his own parents. He explain that in this way he was able to show his love for his parents by making wonderful houses for them.
Yenting, from NTMoFA puts an interesting question to 林建江 LIN Jian-jiang 'Do the ghosts have to live individually or are they able to live together in the same house? 林建江 LIN Jian-jiang replies that they do live individually, in their own houses, but they may visit each other.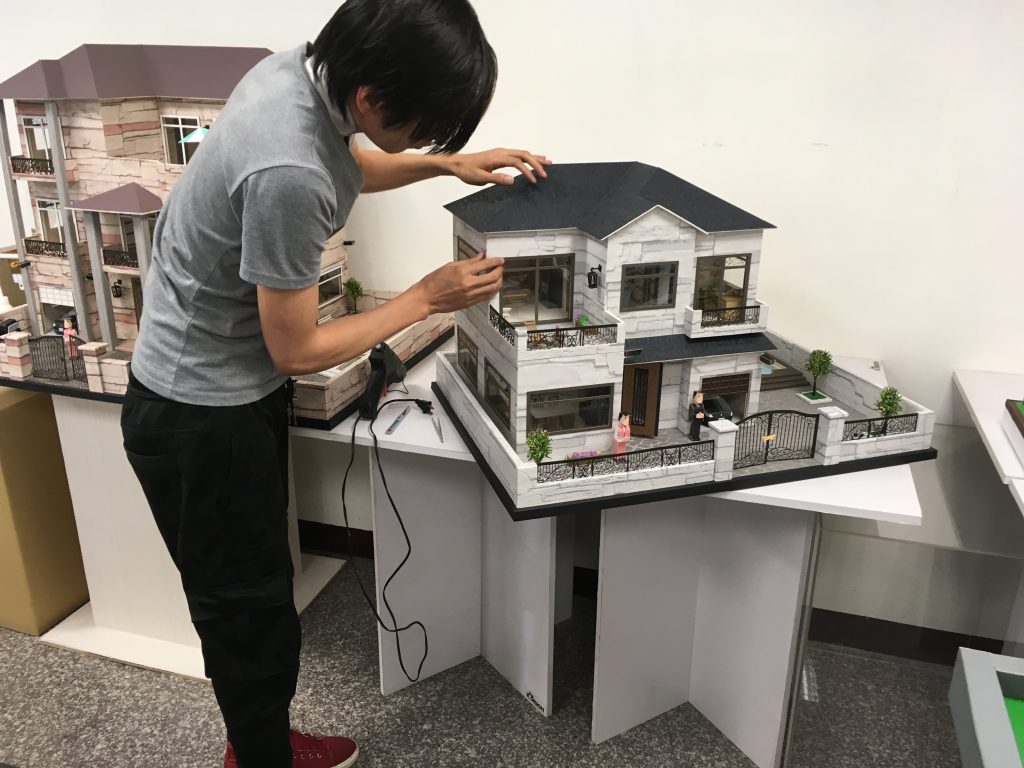 Finally, he tells us that some customers request two houses and that the extra house can be rented out to another spirit. May people save up all their lives to cover the funeral costs and so this is a way that they might make their money back in the after life.
I spend some time looking at the show houses – example houses which are used for display only. I select two for my installation, The Ghost Formula, at the NTMoFA. Many thanks to 正格紙藝 Paper Art for the loan of the ghost houses. They look wonderful on the shelves of my installation where they sit between monitors showing material from Merseyside Paranormal collected during my ghost research in Liverpool.
正格紙藝 Paper Art  http://www.paper-art.com.tw/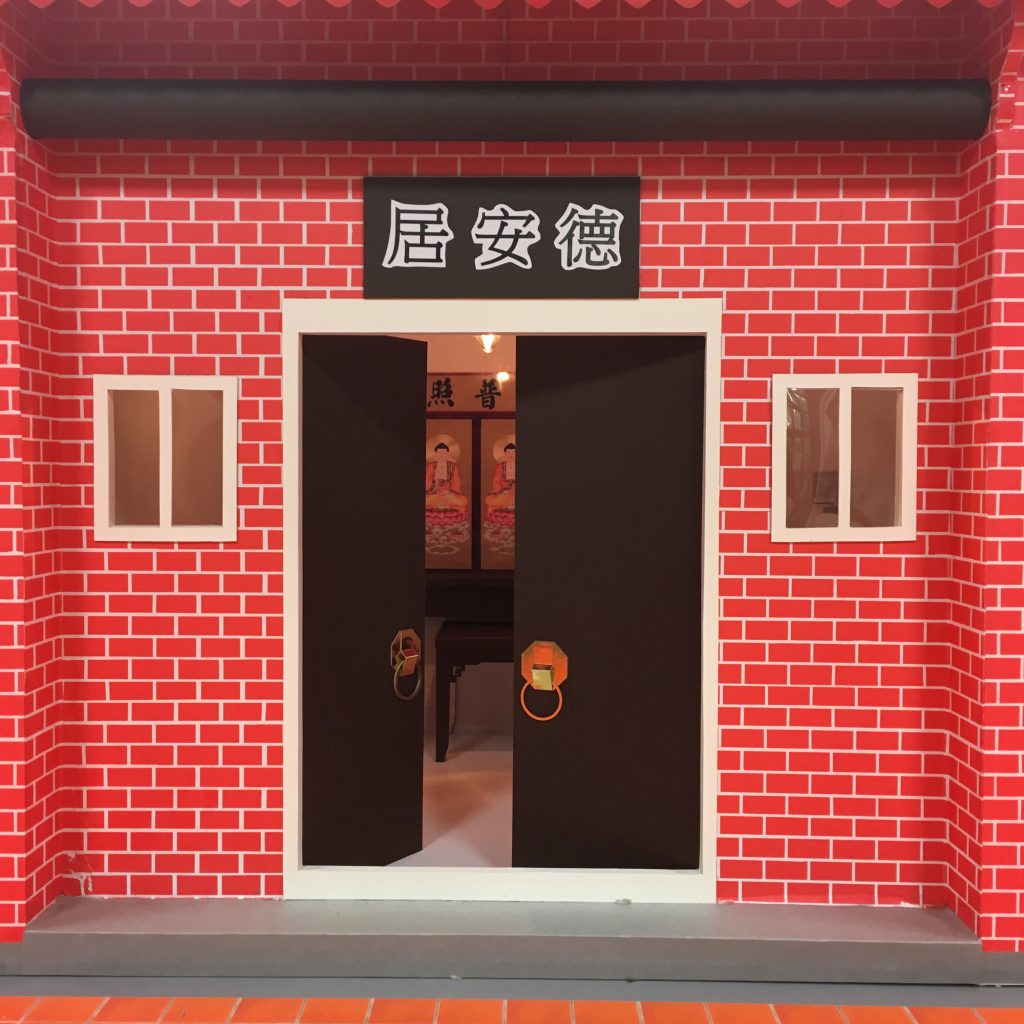 Posted in Blog