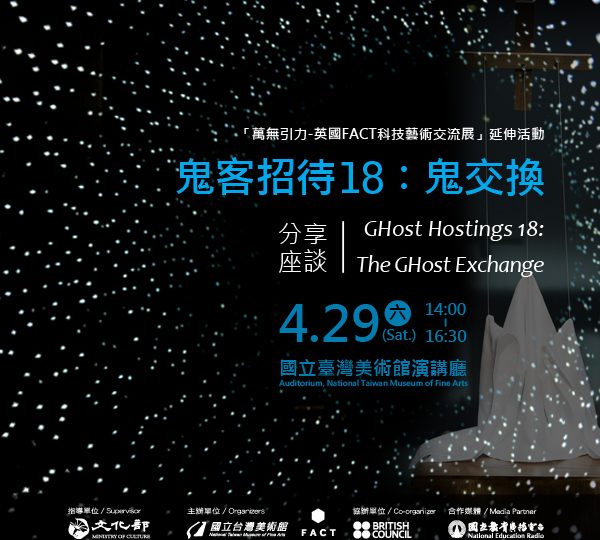 GHost Hostings 18
鬼客招待18
Dr. Nam-Sat Chang
Brief biography
Dr. Nam-Sat Chang is a publically funded doctor studying Theology under the Department of Philosophy in Peking University. He participated for over a decade in the parapsychological experiments by the former principle of National Taiwan University, Professor Lee Si-Chen, and was the former chairman of the Society of Parapsychology in Taiwan. He was an appointed lecturer at the Buddhist College of Singapore, and is currently the head of the Chinese Language department at Hsuan Chuang University. He has also published a book in parapsychology: Ψ-Ω0123: Subjective-Intersubjective Flower Ornament – The Dialectically Manifested Parapsychology and the Sequence System of Intersubjective Awakening. (2011, Taipei: Society of Parapsychology in Taiwan)
Topic: The GHost Exchange: Symbolic Meaning and Symbolic Action
Outline:
The Interactive Culture of Taiwanese Spiritualism: Joss Money, Poe Divination and Spirit Summoning

The Theology and Parapsychology of Spiritual Symbolism and Perception
Xu-Zhan ZHANG
Brief biography
1988 Born into a centurial ancestral paper-crafting family in Sinjhuang. The "Hsin Hsin Paper Offering Store" specializes in making paper sculptures for religious rituals or funerals, such as paper effigies, paper animal, paper houses and other fine crafts. However, Zhang Xu Zhan favors animations.
His works are full of bizarre, absurd grotesque image expansion, intent to discuss the society and contemporary survival experience. Zhang Xu Zhan specializes in hand-drawn animation, puppet animation, digital image, with the combination of experimental film and cinema, multi-channel video installation. And also exhibites various puppets and hand-drawings aside the expanding cinema, etc new media arts. His works has been collected by the Taiwan Museum of Arts.
important group exhibitions, including " 《7th Asia Pacific Triennial of Contemporary Art  – APT7 Cinema》(Queensland Gallery of Modern Art (GOMA))、《2016 KuanDu biennial》、《Asia Art biennial》(Taiwan fine Art Museum) 、《27th International Short Film Festival of Berlin – interfilm》(Berlin, Germany)、《'DigitalArt.LA' International Digital EXPO LACDA》(USA LA Digital Art Center)、《Asia Digital Art Award》(Fukuoka Asian Art Museum)
Topic: Apparitions in Animations
Outline:
A cross examination of the relationship between apparitions in animations and personal creative work through the experiences of a ceremonious paper craft maker.
Guan-Jhang CHEN
CV
1983 Born in Yunlin, Taiwan, currently based in Chiayi
Education
2015 ~  Doctoral Program in Art Creation and Theory, Tainan National University of the Arts, Taiwan
2011   MFA, Graduate Institute of Plastic Arts, Tainan National University of the Arts
2006   BFA, Department of Fine Arts, National Kaohsiung Normal University Current Position
Solo Exhibition
2016  "The intertidal Zone in A Tasi-zhai", Xian-shui-hao , Magong City , Penghu County.    
2015  "Local Narration – Says The Tribal Shaman: ___ " Shezi kuwa (shrine) , Tainan City.
2007  "Sky-less but Blogging", Art Site of Chiayi Railway Warehouse, Chiayi, Taiwan.
Group Exhibitions
2016  "Wind of Life─Penghu Art Festival"Hudong village, Huxi Township, Penghu County.
2015   "TransActions in the Field", Lostgens' Contemporary Art Space, Kuala Lumpur , Malaysia。
2014   "Repercussion" , Golden Thread Gallery, Belfast, U.K.
2014   "Voices Travel: Conversation Between Two Harbours, Kaohsiung Museum of Fine Arts", Kaohsiung, Taiwan.
2012   "Dialogues of Radio Morning Exercises", Fotoaura Institute of Photography, Tainan, Taiwan
2010   "Self Stalker – Projected History", MIGA, Tainan, Taiwan
2010   "What a Big Difference! New Southern 2nd Force", Kaohsiung Cultural Center, Kaohsiung, Taiwan
2009   "In/Visible Landscape: Contemporary Interdisciplinarity Exploration", Pier-2 Art Center, Kaohsiung, Taiwan
Topic:"Local Narration – Says The Tribal Shaman: ___ "
Outline:
Introduction of the Tribal Shaman and ethnic groups-Siraya
-what's "Alid"
-the meaning of "Pot of Syila"
-the meaning of the plant "I-hing"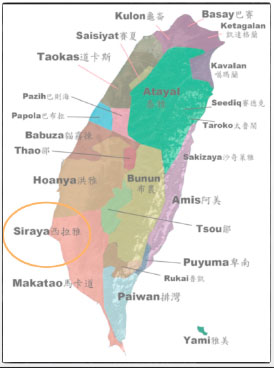 Introduction of the story of artwork-"Local Narration – Says The Tribal Shaman: ___ "
Concepts of the artwork Local Narration – Says The Tribal Shaman: ___
For the past years, I have been video-recording the life of an indigenous shaman in the hope of figuring out what the role of a shaman is and what it means to be a shaman in a contemporary social context.
As for the manuscripts, they are derived from the field interviews with my informant, that is, the tribal shaman, and they are later presented in the form of a series of short stories. I then entrusted the stories to researchers of the Siraya language for translation (from Taiwanese into Siraya). The final product features a combination of an exclusive perspective and linguistic expression indigenous to the tribe in question, hence "local narration".      
I resort to linguistic concepts, such as 'dialect' or 'accent', to perceive the supernatural stories recounted by the tribal shaman, and intend to identify whether local narration of a particular tribe grants us outsiders an alternative and unique way to make sense of the world.